FERD's LIST 2021 Honourees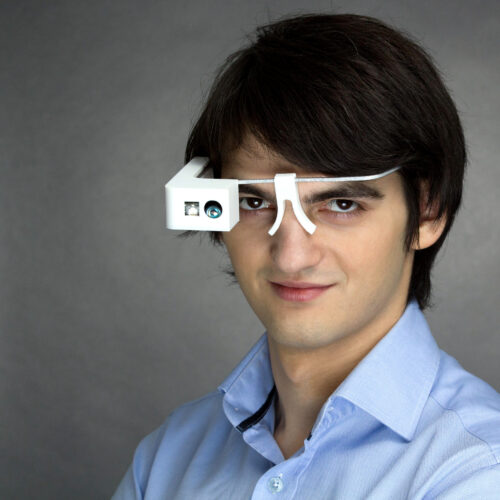 Cornel Amariei is a Romanian-born inventor, speaker, author, and entrepreneur, known for funding .lumen, a startup that builds glasses that empower the life of the blind. Cornel was born in a family where both of his parents have locomotive disabilities, and his sister has a mental disability. Growing up in such an environment, made him curious, but also aware of the limited means he had. Growing up, he began programming at 7 years old and started to build robots at 13. Cornel is known for funding the first high-school robotics club in Romania, and his first two companies, both profitable, together with JA, while still in high school. In his professional career, he had the Head of Innovation position at Continental Automotive Systems, overseeing the innovation culture and projects related to autonomous driving, smart sensors, and e-mobility. Now, he is leading .lumen, where they are continuously testing technologies that empower the life of the blind, with over 200 people with visual impairment. .lumen is the fastest-growing Romanian startup for its stage, having a team of 40 engineers, scientists, psychologists, business developers, and industrial designers. The first product is expected to start mass production next year. For his work, Cornel was nominated in the first Forbes 30 under 30 Europe list, is the first Romanian to ever win JCI's Ten Outstanding Young Persons of the World, and is incredibly proud to also be the first Romanian to be a laureate in the Global Business Hall of Fame, by JA.
Empowering the Blind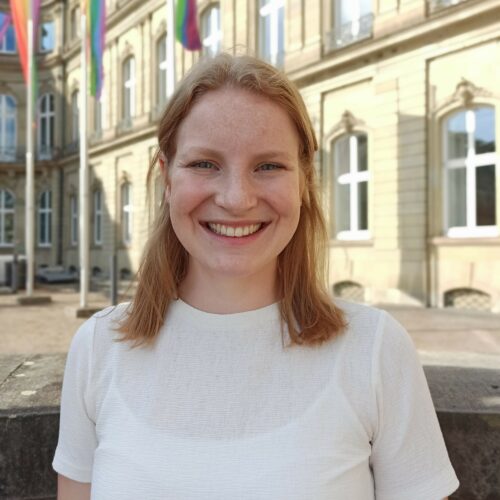 Katrin's first contact with entrepreneurship was at the age of 16, when she founded a school company for a year. After leaving school, she went straight into finance by doing an apprenticeship at Landesbank Baden-Württemberg. Afterwards, she studied part-time Business Administration (with specialisation in Finance). Parallel to her studies, she gained experience working in real estate as well as in venture capital. By becoming acquainted with the founding personalities, Katrin decided to start her own company at the age of 22 while she was still a student. In her daily life, Katrin feels the burden of printed out cash receipts. With the goal of digitising receipts, she founded the start-up bill.less. Over the period of 2.5 years as co-founder, Katrin built up the company as well as the product, a software for the digitalisation of receipts at the cash register and an app for private users. She was part of various accelerators, was coached by experienced founders and raised pre-seed funding for the start-up. Today, Katrin is a start-up enthusiast and currently shares her experience as a start-up pioneer by supporting corporate start-ups in business development. Katrin finds balance as a scout in nature, playing basketball and travelling to African countries. She also enjoys sharing her experience and knowledge with aspiring founders.
Start-Up Pioneer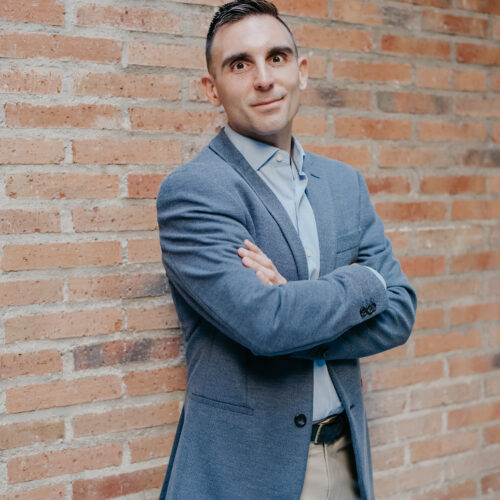 Fran is a great leader. His relationship with Junior Achievement began as a student, later participation in various education programmes as a volunteer. He is always willing to help and collaborate, offering the best of himself to others. he has a strong feeling for Junior Achievement, which is why he was one of the creators of the Alumni network in Spain. Fran´s passion is entrepreneurship. After launching an online marketing agency and a mono-product e-commerce platform, Fran successfully launched his current company entradium.com. entradium.com is an online ticketing platform, similar to ticketmaster but with an ING mindset and pricing. More than 150.000 events have been launched trought entradium.com including: water parks, the Spanish Handball Federation, the Consell of Mallorca or the Rolland McDonald Foundation. Currently Fran combines his management work at entradium.com with support activities for entrepreneurs in early stages.
Online Marketing Agency & E-Commerce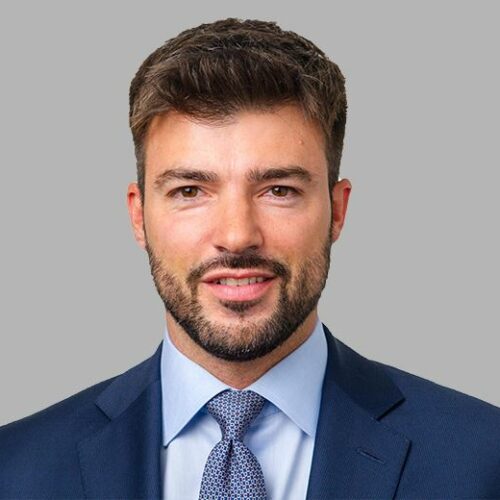 Tim Crockford leads the Regnan Equity Impact Solutions team, at Regnan – the Impact and Sustainable Investing arm of J.O. Hambro Capital Management – in London, UK. Regnan was founded with the mission of driving positive social and environmental impact through investment and stewardship. The fund that Tim runs is a public equity investment fund, that seeks to invest in companies developing and marketing innovative solutions for some of the world's major environmental and social challenges, as represented by the UN Sustainable Development Goals. He previously managed the Hermes Impact Opportunities Equity Fund from its launch in December 2017, having co-founded the Hermes Impact team in 2016, with the same team that he currently works with. Tim joined Hermes Investment Management in 2009 as a research analyst for the European Equities team and became lead portfolio manager of the ESG integrated Hermes Europe ex-UK Equity Fund in 2015, which he also managed until he left Hermes. Before starting a career in financial services in London, Tim grew up in Malta, studying accountancy and commerce at the University of Malta. He participated in JAYE in 1999/2000, as managing director of GF Abela Junior College company InPact, which became the first team from that school to win the national finals, and later represented Malta at the European finals in Hanover, Germany. Tim continued to volunteer with JAYE in every programme year until he moved to London in 2006, helping Netwoks replicate his team's success in the 2001/2 programme year, as their business adviser, as well as participating in various organising committees and helping to coordinate the Maltese national finals events. JAYE remains something Tim is very passionate about and will always encourage students to take part in it, if they can.
Impact and Sustainable Investing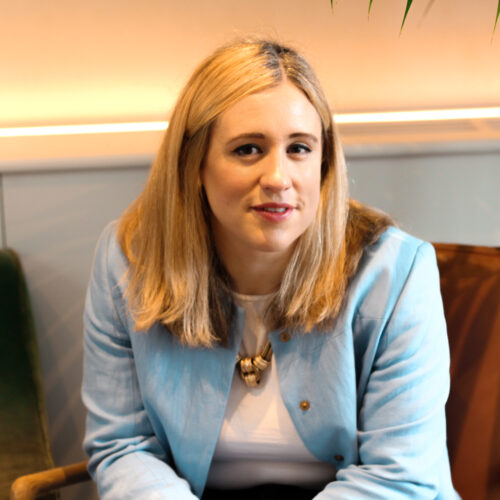 Charly Young MBE is CEO and Co-founder of The Girls' Network – a charity that provides 14-19 year old girls from the least-advantaged communities across England with a female mentor and a network of professional female role models. As a secondary school teacher, she saw first-hand how girls and young women were limited by their gender and background, and knew she had to do something! She left teaching, and has since grown the charity from supporting just 30 girls in 2013, to over 1,400 in 2021. The Girls' Network works with girls via relationships with schools in London, Sussex, Portsmouth, the West Midlands, Greater Manchester, the Tyne and Wear, Tees Valley and Merseyside. Their mentors are all professional women who volunteer to meet their mentees at least once a month for a year, to build skills and confidence, but also to open up networks and opportunities that the girls might otherwise not have access to. Mentoring is a journey, helping mentees get from where they are to where they want to be. The charity has helped over 5,500 girls and young women to date, and it continues to grow. In recognition of this work, Charly received an MBE in the Queen's Birthday Honours 2021 for services female empowerment and young girls. Charly has experience in scaling organisations from idea to reality, and has supported social entrepreneurs working in the education and social justice space through Teach First, the Fair Education Alliance and Expert Impact. She previously worked at the Royal Society of Arts as a researcher, was a primary school governor, and sits on the Expert Impact Alumni Board.
The Girls' Network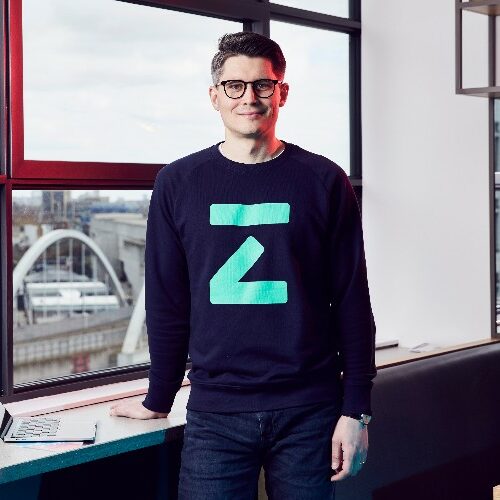 Sten Saar is CEO of commercial motor insurance provider, Zego. He co-founded the company in 2016 after spotting a gap in the insurance market while working at Deliveroo. The problem was obvious: the cost and terms of annual insurance policies for self-employed drivers and riders was acting as a barrier to entry for many. So Zego was born and launched a flexible pay-as-you-go insurance product specifically for this market. Since then, Sten has gone on to lead Zego to become the UK's most reputable insurtech and the go-to insurance provider for businesses - from self-employed drivers and riders to fleets ranging from just two vehicles to global enterprises. He has guided the company through several funding rounds - the most recent of which raised over $200 million and marked Zego out as the first UK-founded insurtech unicorn. Today, under Sten's leadership, Zego continues to power opportunities for customers. It's mission is to provide these businesses with insurance they control, saving them both time and money. To do this, Zego uses a combination of data and technology, and is currently partnered with many well known brands and companies including BP, Uber, Deliveroo, Just Eat and many more. Prior to founding Zego, Sten had already established himself as a talented entrepreneur - starting a notepad business in his native Estonia aged just 17 and growing it into an international brand before selling it in 2013. After moving to the UK, Sten worked in the operations team for private rental home platform, OneFineStay, and later as a Director of Operations at Deliveroo.
Commercial Motor Insurance Provider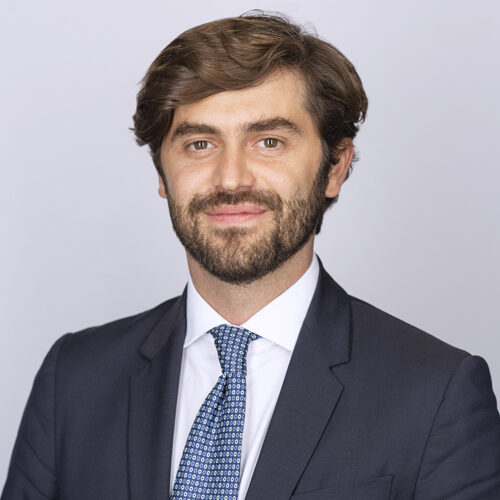 Altin Kadareja is the CEO and co-founder of Cardo AI, a fintech company that helps institutional investors, banks and credit servicers to manage their private market investments with technology and artificial intelligence algorithms. The company is based in Milan, London and Tirana and includes a diverse talent pool of software developers, data scientist, investment professionals, and credit analysts. Altin and Cardo AI are committed to create a positive impact on the business, environment and society with finding new ways to match those in need of financing (typically Small-Medium enterprises and consumers) and institutions that originate credit facilities (typically banks, asset managers, pension funds, and insurance companies). By developing a better technology coupled with AI algorithms, Cardo AI is making a difference in matching savings and credit, for a more prosperous and sustainable society, by making granular loans tradable and investable, to SMEs and Individuals across all European markets. Prior to founding Cardo AI, Altin has covered several investment and risk management roles at BlackRock, Prometeia, Intesa Sanpaolo and Allianz Bank Financial Advisors across different European markets. He holds a master of science degree in Economics and Management of Innovation and Technology from Bocconi University in Milan and followed an executive program in Risk Management at Imperial Business School in London. Altin is very passionate about finance, technology and data. All three ingredients that he engages in different communities, across all three offices of Cardo: Milan, London and Tirana. When in need of new ideas and fresh inspiration he travels the world to find the next surf best wave.
AI and Private Debt Management
Looking back to their Junior Achievement experience
...
"My first entrepreneurial adventure started together with Junior Achievement back in 2010. I was a second-year high school student. I never imagined back then that it would lead to define me as an individual, and to make my life's meaning in being an entrepreneur that builds things that bring impact."

Cornel Amariei

CEO of .lumen
"JA was the single most important experience of my youth. It taught me about the importance of innovation and doing things differently. It shaped my management style. It prepared me for disappointment – and to expect failure on the road to success. Most importantly, perhaps, it gave me a group of friends who remain my closest friends to this day despite living nearly 3,000 km away."

Tim Crockford

Head of Equity Impact Solutions at Regnan
"I am totally convinced that if I am here today: with my own company, with other entrepreneurial projects that I support and with the state of mind of challenging myself every day is all thanks to Junior Achievement Spain and Junior Achievement Europe."

Francisco José Ruiz García

Co-Founder & CEO of entradium
"I am very happy to be a part of JA. The community gives the best motivation to pursue your own personal goals and gives a diverse insight into the startup ecosystem."

Katrin Lech

Start-Up Pioneer
"Junior Achievement definitely kickstarted my entrepreneurial career and empowered me to push my boundaries. I continue to be inspired to solve the next big problem for people and businesses around the world."

Sten Saar

CEO of Zego
"Taking part in Young Enterprise helped me to unlock my inner entrepreneur – to find my agency in doing something about the problems I saw around me. Not only did I learn practical skills about setting up and running an enterprise, but I began to see myself as a change-maker."

Charly Young

CEO & Co-Founder of The Girls' Network
"For me, JA is the place where I first learnt about my future. It was my third grade of high school and it was my first time hearing about entrepreneurship. In Albania we didn't have many examples of entrepreneurs."

Altin Kadareja

CEO & Co-Founder of Cardo AI
FERD's LIST 2020 Honourees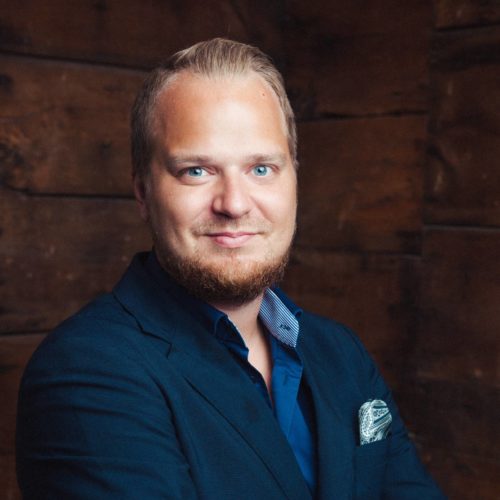 Joonas Ahola started his entrepreneurial career at the age of 14 by taking part at JA company of the year program.
Since then Joonas has built and grown multiple companies. After running his own event agency for 8 years, Joonas recognised a need in the hospitality industry.
There was no automation or digitization of selling meeting rooms in hotels, even though 20-30% of the hotels' revenue is generated by Meetings & Events. This resulted in low conversion rates for hotels to win the business as well long lead times for customers getting replies from the hotels. Even larger hotel chains didn't have any technology in place to offer instant bookings of meeting rooms on their own website.
To solve this problem, MeetingPackage was founded in 2014 with the vision of making meeting room bookings as easy as booking hotels.
It took multiple years and pivots for MeetingPackage to find its niche and service offering that would truly help hotels and event spaces to increase sales while decreasing costs.
During the last years Joonas has grown MeetingPackage internationally and raised more than 4m USD in funding. MeetingPackage has been ranked #1 by HotelTechReport and is trusted by global hotel chains such as Radisson Hotel Group, Nordic Choice Hotels and many others. MeetingPackage is used by more than 10 000 hotels and event spaces in over 120 countries.
Joonas has been awarded with multiple awards and also made his way to one of the Forbes 30 under 30 list makers in Europe.
To stay in shape physically Joonas plays competitive sports such as beach volley, football or any other activity that includes a ball. Joonas also acts as a speaker within the hospitality industry and an advisor for many young entrepreneurs.
Hospitality Industry
Jonas started his first project in the Company Programme at age 16 (10th Grade) and was instantly hooked. He went to Business School where he participated 3 years in the Company Programme and won many of the competitions, including the National Competition in 2004.
Jonas went on to get a bachelor's degree in economics from the University of Southern Denmark while at the same time running 3 company projects. He started several minor company projects until his full attention was directed towards UserTribe.
Being part of the JA Alumni Denmark board for 3 years as well as co-founder of the JA Alumni Denmark "Senior network", Jonas continues to contribute to entrepreneurship in Denmark and Europe. Members of the "Senior network" participated in the Company Programme about 5 to 20 years ago and still meet up 1-2 times a year to support the JA network as well as the European network. Jonas is also today part of the JA Alumni Honoris group and actively mentoring former Company Programme participants as well as supporting and sponsoring Alumni events in Denmark.
UserTribe is the end to end customer integration platform for enterprises. UserTribe connects the people who make things with the people who use things. UserTribe wants to empower a new way of bringing products and services to market where real-life human perspectives are seamlessly integrated into decision-making across the product lifecycle.
UserTribe has offices in 3 countries and works with large global organizations such as Maersk, Mastercard, LEGO, Bain and Novozymes across more than 70 markets on all 7 continents.
Founded more than 7 years ago and run on the belief of bootstrapping for many years, UserTribe has within the past year raised more than €7 million in funding to fuel further growth.
UserTribe invests strongly in the future with machine learning and software innovations to support their offering. As UserTribe wants to become more and more global, further fundraising is planned to support the pace of that growth.
Customer Integration Platform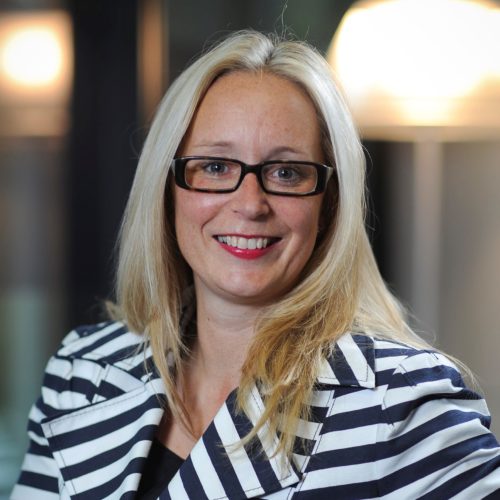 Jennifer is the UK Head of Business Management for Small Business Banking HSBC UK.
Drawing on 30 years' experience with the HSBC Group, Jennifer's role is to evolve the customer experience, support and develop colleagues, guide the performance of the business and shape the strategic direction of Small Business Banking in an ever changing landscape.
Jennifer's role at HSBC UK enables her to make a real difference to small businesses. She created the successful 'Pop-up' week initiative; in which local businesses showcase themselves in HSBC UK branches and offices. Now in its fourth year, over 5500 customers have participated, with 2021 set to see virtual pop-ups for the first time.
Jennifer's passion both inside and outside of work is the development of people. She leads the apprenticeship programme for HSBC UK Commercial Banking, and formed a new Degree Apprenticeship programme for HSBC UK Bank which has been a huge success.
Jennifer created NextGen Fest, HSBC UK's youth festival, part of the world's biggest business event, The International Business Festival in Liverpool. The event welcomed HRH Prince William, as host for the round table. Which brought together eight young people with a view to inspiring them about what the future world of work could be.
Her dedication to professionalising employees through banking qualifications led her to work with The London Institute of Banking and Finance. HSBC UK's recognition at The London Institute of Banking and Finance Innovation Awards for placing a culture of learning at the heart of Business Banking is a huge source of pride.
Additionally, Jennifer's passion for people led her to take a prominent role in Forward Ladies, a support network for women in business. Helping to grow the network from the North across the UK including Ireland.
Jennifer has been involved with Young Enterprise for over 30 years and is passionate about the development of young people's future skills. She is head judge for the Company programme and was delighted to feature in the 'No Time Like The Future' strategy report, as a YE alumnus.
Jennifer lives in Yorkshire with her partner and is step mum to two boys.
Small Business Banking
Todor Gigilev is a serial tech entrepreneur and a community builder.
Through daily passionate efforts as a CEO in Dreamix, a software development association, Todor changes how the entire industry is perceived in the region. Dreamix companies consist of 100+ tech experts who deliver innovative digital products in finance, healthcare, industry and transportation.
Another one of his award-winning projects is AutoButler - a digital platform for the automotive sector, which assists you in your car-related emergencies and support. The solution is recognised by the biggest auto lease companies in Europe and is already implemented by some of the largest corporations in the country as part of their benefit system.
In his spare time Todor is highly invested in developing the Bulgarian entrepreneurial community. In 2012 Todor established Power of Bulgaria - an organisation that gathers the most accomplished Bulgarian entrepreneurs, with proven values and high morals. POB strives to solve local problems and during the Covid-19 pandemic it got a lot of publicity for organising HackTheCrisis Bulgaria hackathon that gathered 850 participants, 50 mentors and 110 teams. One of the winning teams competed in the EU hackathon among 12000 participants and won 1st prize among 2000 teams.
Todor believes that the only solution to the sustainability and environmental problems we face in the 21st century is impact entrepreneurship and impact investing. He is focused on helping impact entrepreneurs build and scale their companies. Todor's dream is to contribute to the success of the first impact unicorn.
Software Development
Karoli is the CEO & founder of Jobbatical, a startup Forbes named one of Europe's 10 Most Exciting Technology SMEs For 2018. On a mission to make immigration smart, Jobbatical is changing lives and building high-performing teams by relocating exceptional people to impactful tech jobs around the world. In 2017 Karoli was nominated to speak at the Fortune Magazine Most Powerful Women International Summit. In 2016, 2017, 2018, 2019 and 2020 EU-Startups named her one of the 50 most influential women in the European startup and VC space. In 2020 the EU Council named her one of 8 most inspiring women in Europe. She founded her first company at 16, officially becoming the youngest inventor in her native Estonia. She also led the launch of seven television channels in Northern Europe, including National Geographic Channels and MTV.
Relocation Service / Business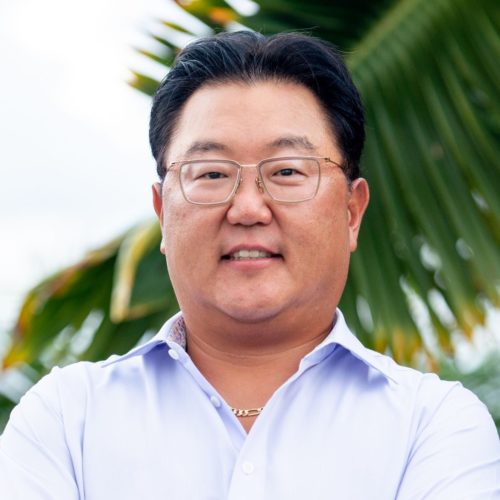 The Junior Achievement Company Program in Northbrook, Illinois is where Charles Kim was first introduced to entrepreneurship and the value of businesses. Charles then continued his study of Management and Finance at Binghamton University in New York, and worked in trading firms across Wall Street before opening his own proprietary trading firm, now with headquarters in St. Thomas, US Virgin Islands.
A cornerstone member of Junior Achievement of the Virgin Islands, Charles has been a key contributor to the success of the organization. After a slow start, Charles, along with key partners were instrumental in rebuilding JAVI from the ground up. Together, they identified new board members, collaborated with schools, established community partners, and recruited students and instructors for the program. As an extension of this, Charles also joined the "JA Americas" Board of Directors, which provides guidance to Junior Achievement's projects and work in countries throughout North and South America.
In addition to his work with Junior Achievement, Charles works tirelessly in the U.S. Virgin Islands community to support numerous other community organizations. He conceived and spearheaded what is now the Virgin Islands' largest charitable event, a culinary competition called the "King of the Wing". In its 11 years of existence, King of the Wing has benefited orphanages and youth programs throughout the Virgin Islands, and has donated hundreds of thousands of dollars to these causes dedicated to cultivating young people's lives.
A first-generation Korean-American and son of immigrants, Charles is also active in Korean-American philanthropies and has most recently established the YS Kim Foundation, named after his late father. The YS Kim Foundation seeks to create long-term, lasting impact through charitable donations to educational institutions and community organizations.
The majority of Charles' philanthropic efforts are focused on youth-centered programs. He hopes to imbue young people with the entrepreneurial spirit that inspired him as a young JA student so many years ago.
Charles Kim currently resides in St. Thomas, US Virgin Islands with his wife, and 3 children
Investment Firm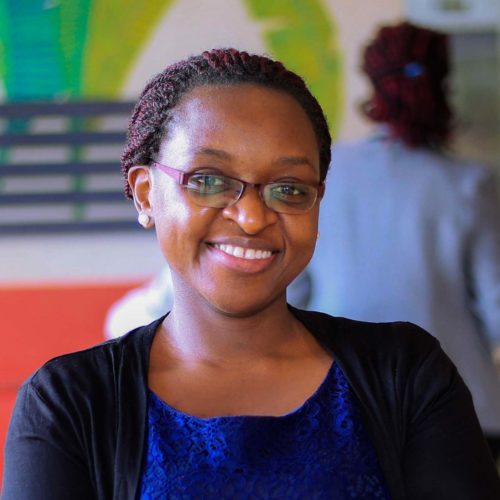 Victoria Mbabazi Ndyaguma is a software engineer by profession and an entrepreneur with a distinct focus on the food and beverage industry.
She is the Founder and CEO of Kitchen Station, a culinary makerspace providing the food and beverage industry in Uganda with the commercial resources they need to grow their businesses and create job opportunities. We believe that creating a collaborative environment and community for youth and food-preneurs will encourage female participation, nurture creativity, innovation and sustainability in the food industry. She is also the co-founder of Kahwa2Go, a spry restaurant with a variety of classic flavourful dishes inspired by our team of dynamic and imaginative chefs. Our evolving menu is complemented with the natural fusion of farm-fresh herbs and spices. Our food recipes are bold; a perfect blend to go along with our gourmet milkshakes and juices.
Victoria is a Cherie Blair Foundation Mentee Alumni (2018), was one of the 1000 african entrepreneurs selected and awarded in the first cohort of the Tony Elumelu Entrepreneurship Program (2015). In 2014, courtesy of Kahwa2Go was awarded the Barclays Uganda Young Achievers Award (in collaboration with JA) as well as the CURAD Agribusiness award under the category of best new trade idea.
Under the technology umbrella, In 2016 Victoria worked with Hostalite Cyber Academy in organizing a national inter university Health App Hackathon to generate IT solutions for reproductive health challenges in conjunction with Marie Stopes Uganda. Victoria was one of the two Google Student Ambassadors in 2014/2015 for Makerere University training over 100 students in Google applications with my headline program being Online marketing using Google Adwords. She has worked with innovation hubs and organizations like ResilientAfrica Network (RAN) as a Technovation consultant, mentor, and Judge conducting App Inventor training and mentoring to over 100 girls within secondary schools and universities. At Women in Technology Uganda (WITU), Victoria was the program coordinator and supported in the setup of the WITU Hub and spearheaded the Code Girl program where she trained two cohorts of both secondary and university students in web and mobile application development.
Entrepreneur - Culinary Makerspace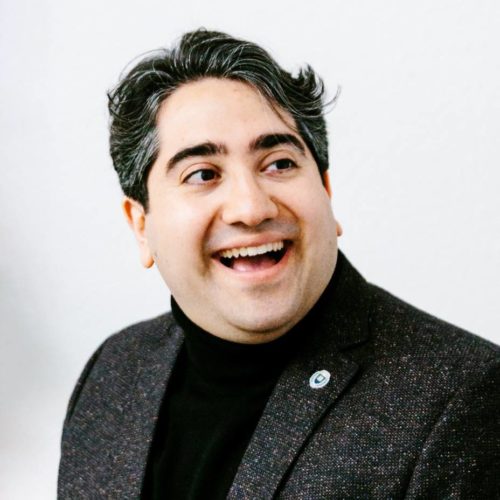 Manouchehr Shamsrizi "is among the most publicly prominent voices of Germany's younger generation" Washington Post) and "everywhere where the improvement of political conditions still has considerable scope" (re:publica). He is a co-founder of gamelab.berlin at the Humboldt University zu Berlin's Cluster of Excellence and a co-founder of the Yunus Centre for Social Business and Values at Leuphana Universität Lüneburg, a collaboration with Nobel Peace Prize Laureate Prof. Muhammad Yunus which he has initiated. As an "innovative visionary" (TEDx), he received the opportunity to work at the intersection of academia, digital entrepreneurship, and policy i.a. as an Ariane de Rothschild Fellow of Innovative Social Entrepreneurship at the University of Cambridge, a Global Justice Fellow at Yale University, a Fellow of the German Council on Foreign Relations, and was honoured as a Fellow of the Royal Society of Arts, a Leader of Tomorrow of the University of St. Gallen, and a Global Shaper of the World Economic Forum. While having been primarily educated in political philosophy and holding a Master of Public Policy, the longlasting impact of his time with JA Germany lead "Manou" to become the founder and CEO of social business / digital health startup RetroBrain R&D, which is involved in researching and developing novel serious gaming approaches to solve challenges in medical care and therapy, is regarded as "a benchmark in the therapeutic gamification industry" (LIFT Basel) and became the publisher of one of the world's first video games classified as a medical device. In light of this, Shamsrizi became one of 100 handpicked European Founders invited to President Obama's Global Entrepreneurship Summit at Stanford University and was selected as one of the "Top 40 under 40 entrepreneurs" by business magazine CAPITAL. He is a lecturer on "technology of the future and its impact on society" at Leuphana Universität Lüneburg and on "Metaphysics of Metal" at the Wacken Open Air's Metal Academy, a Member of the Award Jury of the "Deutscher Computerspielpreis" of Germany's State Minister for Digitization and of the Award Jury of Körber Foundation's ZUGABE-Price, an advisory board member of Humboldt Innovations's quantum technology consultancy "the quantum chapter", and the Chairman of the Advisory Board of a joint project of the German branch of the Sovereign Order of Malta and Germany's Federal Ministry of Building. He has been one of Germany's youngest Supervisory Board members, and is both proud and pleased to serve on the Rotarian Metalhead Fellowship's board of directors. Shamsrizi is a member of various think tanks on issues of digitisation and justice, including the Stifterverband für die Deutsche Wissenschaft, the ZEIT Foundation, and the Grameen Creative Lab. He was a speaker at the Bellevue Forum of German President Joachim Gauck and at the Leopoldina, Germany's National Academy of Sciences, and was awarded The Germany Scholarship by the Government of the Federal Republic of Germany and the Schering Foundation.
Digital Therapeutics and Healthcare
Looking back to their Junior Achievement experience
...
"JA worked as a catalyst in finding my entrepreneurial path. It also pushed me towards the mindset of learning by doing which still today plays an important role in my day to day life."

Joonas Ahola

Founder and CEO of MeetingPackage
"I realize that without the Company Programme and a couple of devoted teachers at the business school, I might not have been an entrepreneur – at least not that early. Instead, I can now look back at almost 20 years of entrepreneurship and a lot of learnings – striving to work for my core beliefs around empathy, development and experiences."

Jonas Alexandersson

Founder & COO of UserTribe
"Young Enterprise has had an influence on my life for over 30 years. From the skills I learnt being part of the Company programme to becoming a Business advisor years later. I continue to be amazed and excited by what our young people learn on their journeys - confidence, adaptability and resilience. The young people and the vital business skills they learn are what continue my passion for supporting such a brilliant organisation."

Jennifer Crawley

UK Head of Business Management for Small Business Banking – HSBC UK
"JA switches your perspective so you can actually see the real problems in the world and gives you the tools to solve them. You get everything you need to change the world - the know-how, the motivation and the network of like-minded, good-hearted people who fight for the same future you do."

Todor Gigilev

CEO of Dreamix
"The JA program helped me to realize at the age of sixteen that I can make a difference. It was then when I also decided that with the little time we have in this life, this is exactly what I want to spend my life doing."

Karoli Hindriks

CEO & Founder of Jobbatical
"Junior Achievement introduced me to my passion and I am forever grateful. The program gave me my first taste of entrepreneurship. I plan to do my part by continuing to invest in our youth, so they, too, can become successful entrepreneurs."

Charles Kim

Co-Founder & Managing Partner of Alpine Global
"Starting out a career or business comes with uncertainty and discomfort. Choosing to sit and wait for the right job to come is equally unpredictable. Both sides come with thorns; your journey to success stems from where you choose the discomfort to find you."

Victoria Mbabazi

Founder & CEO of Kitchen Station
"Thousands of years of iatrology, the philosophy of medicine, led to a remarkable and consensual proposition in the late 19t century: The understanding that "the practice of medicine is an art, based on science" (Sir William Osler). A few months of JA during my grammar school were enough, though, to let me unequivocally understand it is the same with entrepreneurship - everyday since that time I am thankful for the privilege of being lectured on this so early in my professional life."

Manouchehr Shamsrizi

Founder & CEO of RetroBrain
FERD's LIST 2019 Honourees
Looking back to their Junior Achievement experience
...
"JA was the spark that lit the fuse: learnings, connections, entrepreneurial mindset"

Santiago Jiménez Cortés

Co-founder and CEO of Liight
"JA sparked competitiveness in me. It led me to study economics and become an entrepreneur."

Danielius Stasiulis

Co-Founder of BitDegree
"The JA Program provided a solid foundation for getting ready for the real world and accelerated our ability to execute on the right things."

Christian Frost Røine

Co-founder & CEO of FELL
"JA's greatest advantage is to make you understand that your future really depends on you and how hard you work to achieve your goals."

Karina Khudenko

Head of PwC Russia Corporate Responsibility Committee
"The JA program opened doors to many opportunities that ended up taking me to a place that I never imagined!"

Leonardo Martellotto

JA Americas' President
"Without the JA program, I would never have had the courage and confidence to take my first step in this entrepreneurial journey."

Bonnie Chiu

Founder & CEO, Lensational
"The JA company program completely changed my perspective and allowed me to find my passion instantly."

Ray Dargham

Founder & CEO – STEP Group
"Through the JA programs, I met with many individuals with high societal responsibility. It makes me feel more confident about the future of the world."

Zhang Biwei

Founder and Director of Art Dream
"JA gave me a different perspective about economic success. Starting and running a company while in school made all the difference."

Emmanuel Nyame

Co-founder of Educational Communities Worldwide Inc
FERD's LIST 2018 Honourees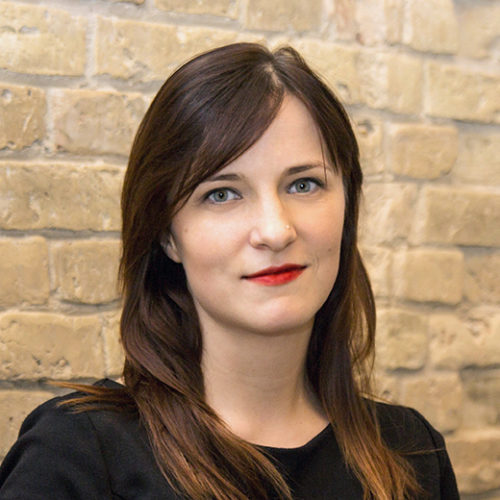 Dalia Lašaitė is a co-founder and CEO of 3D model marketplace CGTrader. CGTrader is one of the leading stock 3D model marketplaces globally with over 1.4M users and over 670K models for film, animation, architectural visualisation, AR/VR/game development and other industries. Individuals and business customers can choose from a wide collection of high-quality free and premium 3D models, and use them in commercial projects decreasing project development time and reducing content creation costs 5-10x. CGTrader gives talented 3D designers the opportunity to showcase their work, get valuable feedback from the community, learn from their peers and interact in a designer-friendly environment. The platform allows designers to directly communicate with their customers and earn the highest royalties (up to 80%) in the market. CGTrader currently has more than 100 of Fortune 500 companies as clients.
In May 2016, the Hundert, a Berlin-based startup publication, named Dalia Lasaite as one of Top 100 European female entrepreneurs. Dalia holds BSc degree in Economics and Business Administration from Stockholm School of Economics in Riga, and MSc degree in Finance from University of Lausanne. Prior to joining CGTrader, Dalia worked in finance and co-founded two other technology startups.
3D Animation
About Dalia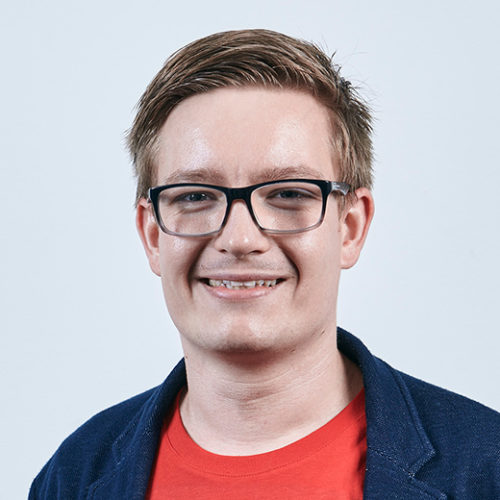 As an accelerator of good ideas, creative dissident and entrepreneur, Daniel Bartel supports start-up teams in the agile development of business models. He is the only coach for radical innovations worldwide who learned the disciplines of Design Thinking, Business Modeling and Lean Startup and successfully combined them early on. Its network called MAK3it has already enabled over 300 teams of established companies worldwide, including employees of BOSCH, TÜV and Daimler, with the innovation kickbox and an extra portion of start-up spirit.
Daniel Bartel strives for an inclusive and desirable world of tomorrow. He is the editor of several books on the topics of Intra-& Entrepreneurship -even before he completed the Master's programme of the same name, two of these publications developed into national standard works. Since the sale of his last P2P Carsharing Start-up to Drivy, the customer and the learning speed have consistently come first in all his projects. He is also a provocative guest speaker on megatrends such as the sharing economy.
Daniel (@danbar87) is involved as a changemaker in a variety of European projects in the field of social entrepreneurship and deals with the essential questions around the topics of digital society, respectable founders and future business models. Daniel Bartel is one of the youngest graduates of the altMBA, Seth Godin's worldwide leadership program.
Startup Accelerator
About Daniel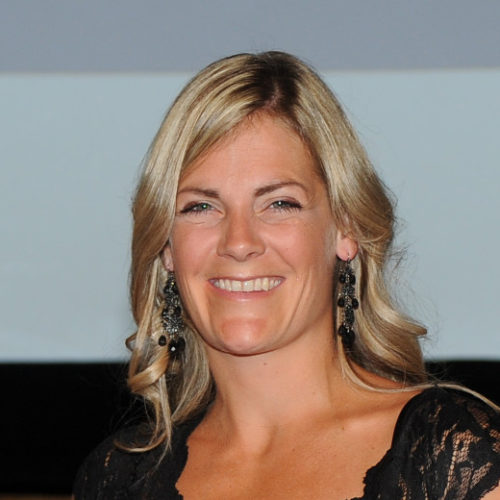 A highly accomplished marketing professional, results-driven, strategically oriented and proactive business leader with strong personal drive and several years of experience from various industries including NGOs, B2C & B2B.
Brynhild is the Chief Markets Officer at 24i Media, an industry-leading global TV app developer with award-winning technology that helps customers develop and deploy apps faster and more efficiently on all devices, screens and platforms, heading up all sales and marketing efforts, responsible for determining how 24i Media goes to market, orchestrating the customer experience and building the brand while fueling business growth globally.
Her areas of responsibility and focus at 24i Media include Public relations, corporate communication, digital marketing, product marketing, marketing operations, market insight, event & trade-show management, marketing automation, social media, CRM optimization, business strategy, brand management, responsible for aligning the sales organization's objectives with firm business strategy through active participation in corporate strategic planning, sales strategy development, forecasting, sales resource planning, and budgeting, accountable for effective sales organization design, including sales job roles, sales channel design, and sales resource deployment.
Brynhild is also the organizer and host of the annual summit, Nordic TV Summit. The Summit has become one of the most desirable places for the industry to meet and network, recognized as one of the most important event in the OTT calendar.
Brynhild initiated and played a central role in establishing JA Alumni Europe back in 2004 and continued to lead the organisation as European President until 2007. In addition, she was the CEO of JA Alumni Norway from 2003 to 2008. She also worked at JA Norway in addition to studying. She initiated several initiatives that spread to many countries like "Leader-for-a-day" and "Girls in leadership".
Brynhild was recognized as CMO of the Year 2016 at the 24th Le Fonti IAIR Awards in London, U.K.
Brynhild was named Top 100 talent by Business.dk in 2017
Media Innovation
About Brynhild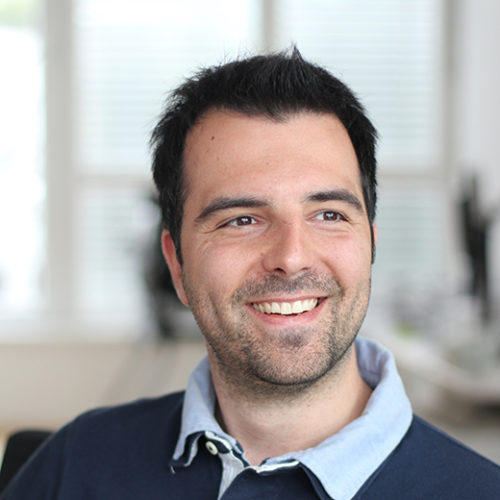 Bernhard Hofer, 33, studied Business Informatics at Management Center Innsbruck and Management Information Systems at the University of Nebraska at Omaha. He gained professional experience in the fields of online marketing, agile IT project management, building online communities and leadership working for big advertising and tech companies in Vienna.
After several years in corporate life, Bernhard and his wife Doris founded the social business talent 2 talent GmbH in October 2014, based on the idea of a Junior Company he founded 10 years before at his high school in Innsbruck, Tyrol. The main focus of their activities is talentify.me, an educational social network for pupils including Apps that support peer-based tutoring, nurturing individual talents of young people by offering extracurricular workshops and events with several different partner organizations.
Based on those activities young people discover their talents, document achievements and discover exciting educational and professional paths based on intelligent matchmaking algorithms. In addition, the business network talentify.works offers consulting and recruiting services for companies to communicate, find and hire the right young talents helping to build bridges between the school system and the world around it. With his passion for education and social entrepreneurship Bernhard got elected as an Austrian Ashoka Fellow in 2015. Furthermore he is passionate about rock climbing, beach volleyball and plays the piano.
Education
About Bernhard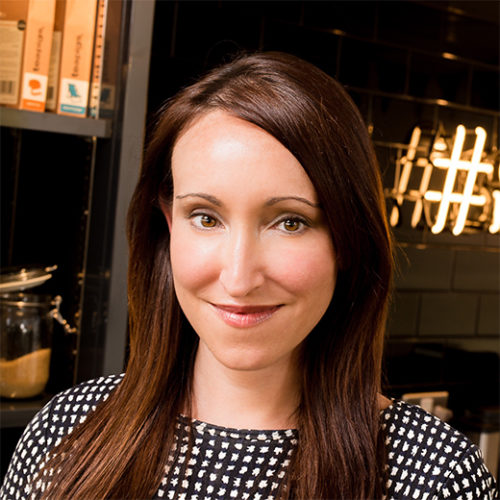 Alicia is an energetic and creative tech entrepreneur, with a passion for product and business development.
She founded Skimlinks (www.skimlinks.com) in 2007, and was CEO of it from inception for over 10 years, growing it to be the leading content-to-commerce monetisation platform for online publishers globally. Skimlinks is a $50m a year business with global operations, driving $1bn in ecommerce through its platform annually from the 4.5m websites of its customers such as Conde Nast, Buzzed, Huffington Post, and many more.
After over 10 years of being CEO, Alicia has moved into the role of President and Board member, where she continues to contribute to Skimlinks' market presence and vision.
Prior to starting Skimlinks, Alicia worked in Australia and London for large media/telco companies such as Vodafone, Optus, IBM and Fairfax Media, as well as a number of start-ups (including a few she started). Her passion and talent has always been in working with teams to turn concepts into successful products.
Alicia is also an active member of the tech community, mentoring and supporting new entrepreneurs on their journey. She has won a number of awards including the WIT Female Entrepreneur of the Year and the FDM everywoman Entrepreneur of the Year. She is also on the Board of Trustees for Young Enterprise, the social enterprise she herself participated in as a teenager, that helps young people develop confidence and business skills.
Marketing Technology
About Alicia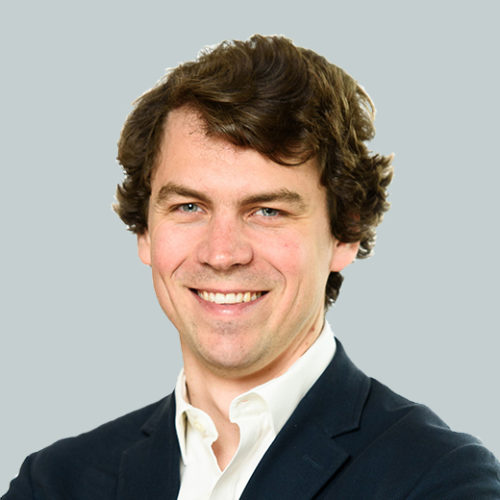 Sébastien is the co-founder and Chief Executive Officer of Riaktr (formerly known as Real Impact Analytics). Building on his entrepreneurial nature, Sébastien launched Riaktr with Loïc Jacobs van Merlen to capitalize on the growing trend of "Big Data" and the emerging need for Analytics. With Riaktr, Sébastien has developed Analytics software for Telecom operators for the last 8 years. He has worked for over 70 Telecom operators, including 6 of the 10 largest global telcos.
In addition, Sébastien has also been instrumental in the development of Data for Good, which is a program that helps governments and international agencies alleviate poverty, food crises and provide disaster relief where it's needed most. Thanks to these efforts, Sébastien was selected to be part of the Belgian MIT Innovators under 35 community in 2016.
Prior to Riaktr, Sébastien worked for McKinsey & Company, both as a fast-track Junior Associate and member of McKinsey Solutions' client development initiatives. He also graduated with Summa cum Laude from the Solvay Business School of the University of Brussels (Msc Business Engineering) where he launched the first entrepreneurship club.
During his free time, Sébastien enjoys classical music, running & scuba diving. He participates as board member to BeCentral and supports entrepreneurship education organizations.
Data Analytics
About Sebastien
Looking back to their Junior Achievement experience
...
"I went from being a shy, awkward, not-terribly-popular teenager, to leading my JA team as Managing Director to national success. That achievement opened the door to more involvement with JA as an alumni, which gave me the confidence, exposure to greatness, and ambition that is directly linked to my entrepreneurial success today."

Alicia Navarro

Founder of Skimlinks
"Junior Achievement gave me the permission to make business ideas real at a very young age. Looking back, I got the freedom to create something meaningful and learned how to lead a powerful pupils' business!"

Daniel Bartel

Senior Executive Partner at MAK3it
"I'm forever grateful for my JA experience- a truly life changing experience that gave me profound insight into business life, my own capabilities, desires and dreams. I am where I am today thanks to JA and I aspire to grow and continue to learn, evolve and make an impact- thanks to my JA experience."

Brynhild Vinskei

Chief Markets Officer at 24i
"JA had a huge influence on the course of my life. It confirmed my desire to follow business studies at university and it drove me to quit my first job to start 3 start-ups. In a word, JA gave me the entrepreneurship bug "

Sébastien Deletaille

Co-Founder & CEO of Riaktr
"Junior Achievement introduced me to the world of business in high school, thereby making entrepreneurship an accessible and viable career choice. During JA programmes, I not only got the basics of business skills that were very useful going forward, but also learned that starting a business is something that any motivated individual can pursue."

Dalia Lasaite

Co-Founder & CEO of CGTrader
In retrospect the Junior Achievement programme was one of the highlights during my school career. The skills I've acquired hands-on and the early entrepreneurial experiences we made as a group are still supporting me today: passion, creativity, teamwork, communication, but most importantly developing a vision associated with the feeling that everyone can do something, can change things for the better.

Bernhard Hofer

Co-Founder & CEO of talentify.me
FERD's LIST 2017 Honourees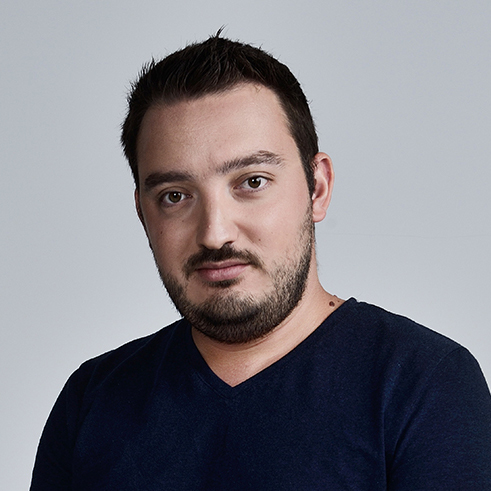 Boris Kolev is one of the most successful young entrepreneurs in Bulgaria. He started his entrepreneurship career on the age of 13 at the Junior Achievement Student Company program in high school. Right at the age of 18, he founded his first company 'JT International'. His rapid success in the marketing innovations sphere got the attention of world business media and at the age of 19, the Business Week Worldwide Magazine ranked him in the top 3 of 'Europe's Best Young Entrepreneurs for 2007'.
Currently Boris runs a group of 4 companies in the digital and software innovations sphere as well as 2 non-profit projects and recently founded a new local tech VC company, supporting and investing in the local startup ecosystem. One of his latest projects 'DigiMark' is ranked among top 5 fastest-growing tech companies in the country for 4 years in a row. DigiMark has grown quickly from small local mobile development startup to a global tech company with locations in Sofia, Porto, Utah, New York and San Francisco.
As a personal cause in the last 9 years Boris is investing his free time, funds and efforts for the non-profit organization CSR Bulgaria, which is helping the Bulgarian businesses to implement corporate social responsibility and sustainable development strategies, achieving great impact in the Bulgarian society trough more responsible business practices.
In 2016 Boris founded the tech VC company 'DigiMark Ventures' which has currently invested in 8 local startups in the sphere of Education, Healthcare, Biotech and AI. In 2013 Forbes magazine puts Boris in the first '30 under 30' list of the young Bulgarians with greatest potential.
www.digimark.bg
Mobile Applications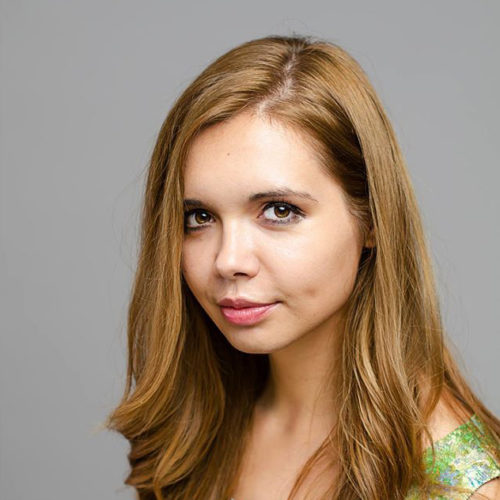 Claudia, an European awarded young entrepreneur from Romania, has received in 2015 her international recognition by winning the Young Leonardo Award in the category Trans-Generational Learning offered by HRM Research Institute under the patron of European Commision.
In March 2014 Claudia was included in the Top Forbes Romania "30 under 30", being recognized as one of the next Romanian young leaders due to her great involvement in children's education, positive attitude and creativity.
In 2012 she made her appearance on the Romanian version of Dragons' Den . She began her award winning career on 2012 when she won the first prize of the national Romanian competition "Start! Business 2012" organized by Junior Achievement.
Being dissapointed in what school offered her she has decided that she can do more by working as a volunteer. That experience was what she needed to discover her talents, passions and inspiration.
In the present, together with her team, Kidster delivers high level educational programs for children aged 8 to 14. Their focus is on technology, foreign languages and personal development activities. She coordinates corporate educational programs and she develops her free resources platform of activities, books recommendations and games for families. Until now she reached thousands of children in Romania and more will come in the following years.
"I'm the most curious person I know and I think is one of my best skills. Sometimes I feel like a detective when I have to solve some challenges for my company. Through my activities I want to inspire people to keep learning, be generous and be kind. We can do everything we can dream of, and even more."
Education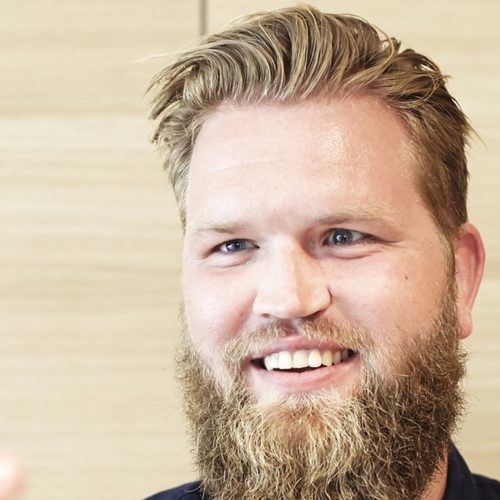 Be My Eyes is a simple but powerful app enabling the blind and visually impaired to 'see' through the eyes of sighted volunteers via a smartphone.
"I participated in JA Company Programme where I founded our first start-up that still exists today.
My passion is innovation, personal development, changing paradigms, people and the adventures of life.
This is closely linked to my childhood. Without sharing stories about how I learned to ride a bicycle and how I believed a "goal kick" in soccer actually meant kicking the goal frame, I will briefly address it:
There is no ordinary childhood; however mine was very close to an average lovely Danish childhood: I played sports, ate ice cream, I lived surrounded by playgrounds, green trees, and friends. At the age 13 I was diagnosed with cancer for the first time and here my ordinary childhood stopped.
Fast-forward: 5 years, numerous treatments and surgeries later. I had beaten cancer twice and now consider the cancer being one of the best things that happened to me – besides surviving it. It gave me perspective, a positive approach and a love of life at a very young age.
This approach to life and skill set led me to be absorbed in the world of innovation and entrepreneurship where core skills like adaptability, positive thinking and creativity are very similar to the 'lessons learned' from surviving cancer.
Now - at the early stages of my career I use this skill set in creating businesses, helping entrepreneurs and to motivate others. I have been part of the JA alumni network for 10+ years and the community is a key ingredient in my entrepreneurial journey.
JA was the igniting spark to start my journey. I met young likeminded early stage entrepreneurs who showed me that you can make it even at a young age."
Christian recently participated as a jury member in JA Europe's Social Innovation Relay Global Final in June 2017. He continues to be an inspiration to the JA network.
www.bemyeyes.com
Social Entrepreneur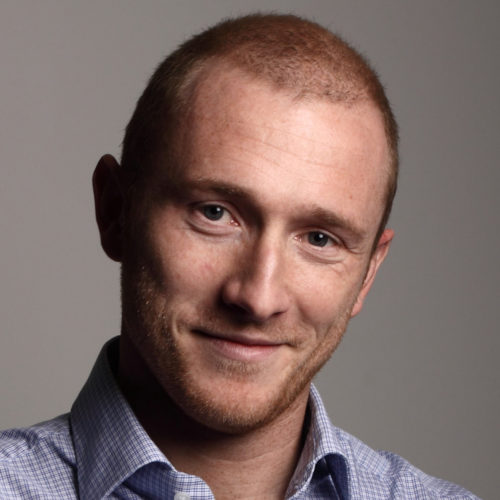 Chris Slater helped turn Simply Business from a tiny start-up company into one of the UK's largest online business insurance providers in less than ten years. He is now on a mission to change insurance for all small businesses across the world driving their first international business outside of the UK; launching the business in the US in the fall of 2016.
Co-founding and launching a new way for small businesses to get protected in 2005, he has been a driving force behind the company becoming the leading insurance broker for small and medium sized UK businesses. The firm has been phenomenally successful, generating annual revenues of over £60 million, recently selling for £400m to Travelers , and currently insuring over 435,000 customers across the UK.
Today Simply Business employs more than 450 people across its London and Northampton offices, has a growing team of over 30 people in Boston, Massachusetts, and has won the Sunday Times Best Company to Work For in both 2015 and 2016. Most recently the business has achieved B-Corp accreditation, enshrining the social and environmental values the business has been built on in creating a new force for good within the corporate landscape.
Now responsible for developing Simply Business' expansion into new markets, Chris is primarily focused on launching the US business, looking to harness the same capability of a group of lean product development specialists and commercial team, an agile development platform and an award-winning operations team that has delivered success in the UK, to
deliver a great customer proposition to the US small business community. The launch is imminent.
Prior to working at Simply Business, Chris worked in a number of roles at Royal & SunAlliance, including a role on the MORE TH>N launch team, and he currently invests in and advises to a number of start-ups across a range of sectors, as well as advising and supporting a number of charitable ventures including the UK's largest enterprise education charity, Young Enterprise. Chris holds a BA in Economics from University of Liverpool and an MBA from Cass Business School.
Chris shared his experience of the JA Company Programme in UK with Young Enterprise: "With start-ups you're dealing with similar challenges that you face during Young Enterprise. You've got to profile your customer base, do market research, get backers, get the business operational and come up with a brand. Young Enterprise whetted my appetite for business (...). It taught me some important lessons about the dynamics of people in a business."
www.simplybusiness.co.uk
Financial Services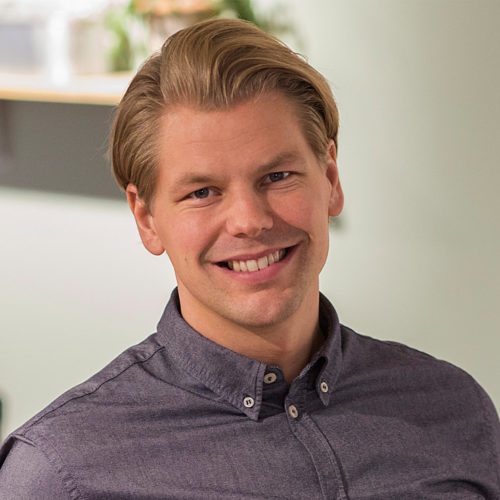 Erik founded Quinyx with the idea to develop one of the first fully cloud based Workforce Management solutions. Over the years Quinyx has grown to become the market leader within SaaS Workforce Management serving industries such as Restaurant, Retail, Gyms, Call Centres and hotels. The web service today has over 250,000 active users all over the world and the business has over 100 employees spread across offices in Sweden, United Kingdom, Germany, Norway, Denmark and Finland.
Quinyx has been appointed one of the fastest growing companies in Europe by the newspaper Dagens Industri's Gasell-competition with 600 % organic and profitable growth 2010-2014.
Erik has been mentioned as one of the most promising young entrepreneurs in Europe by BusinessWeek and is a frequent speaker on topics such as start-ups and SaaS. He has received numerous awards, for example Entrepreneur of the Year by Founders Alliance and International Growth Award by Ernst & Young.
www.quinyx.com
Wokforce Management
Over the 12 years before founding Hotjar, David generated hundreds of millions of dollars in growth consulting fast growing startups and fortune 500 firms.
He has built multiple teams, developed brands and run hundreds of tests for his clients… spanning across 19 languages, 12 currencies and 13 industries.
Today Hotjar is used on over 220,000 sites and is one of the fastest growing analytics startups in the world.
David participated in the JA Company Programme in Malta in 1998, he was Managing Director of the JA Company 'Omicron', winner of National and European Competition.
"Looking back, I now realise that participating in Junior Achievement Young Enterprise was the beginning of everything for me. It changed my path. It landed me jobs with amazing bosses that made me the CEO and business owner I am today."
www.hotjar.com
Web Analytics
Looking back to their Junior Achievement experience
...
"This experience changed my career and my future because it pushed me to develop an international vision of my business.
If it weren't for the Junior Achievement programme I don't think I would have been so successful, have developed my skills that fast, I probably did not have the support and the business network needed for the organisation."

Claudia Suhov

Founder & Creative Director at Kidster
"What was really important to me was to get the opportunity to run a company in high school and to get the mentors and advisers early on that could tell me the steps involved in building a business."

Erik Fjellborg

CEO & Founder at Quinyx
"Looking back, I now realise that participating in Junior Achievement programme was the beginning of everything for me. It changed my path. It landed me jobs with amazing bosses that made me the CEO and business owner I am today."

David Darmanin

Founder & CEO at Hotjar
"Junior Achievement was the igniting spark to start my journey.
I met young, like-minded, early stage entrepreneurs who showed me that you can make it even at a young age."

Christian Erfurt

CEO and Co-Founder of at Be My Eyes
"With start-ups you're dealing with similar challenges that you face during Young Enterprise. You've got to profile your customer base, do market research, get backers, get the business operational and come up with a brand. This experience whetted my appetite for business. It taught me some important lessons about the dynamics of people in a business."

Chris Slater

Co-Founder & CEO (USA) at Simply Business
"The first moment was the JA Student company where I learned to set my goals: If you try hard enough, you will be successful."

Boris Kolev

Managing Partner at DigiMark