Six outstanding young entrepreneurs and leaders from six different countries have been selected for  this year's FERD's LIST. Their stories show there is a new kind of entrepreneurship out there.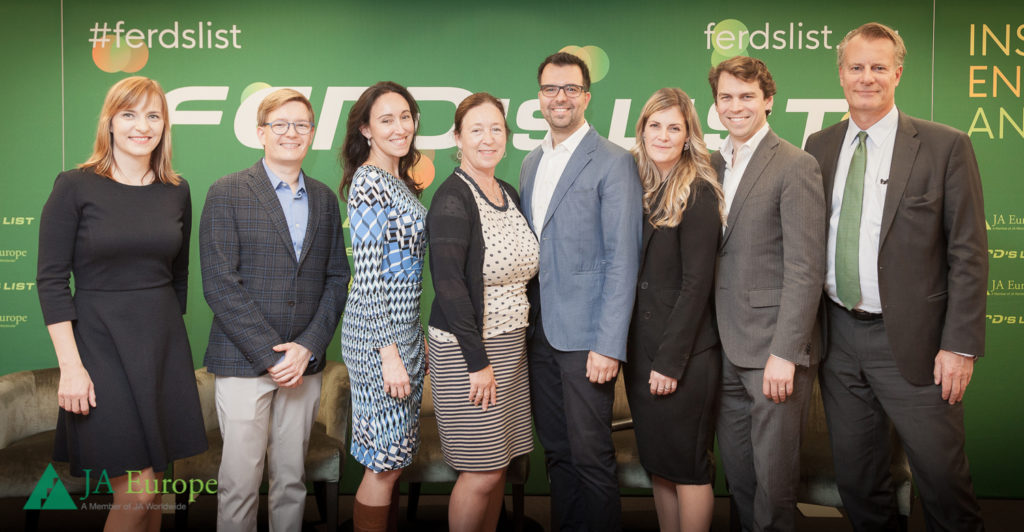 View Photo Gallery
FERD'S LIST is an initiative of JA Europe to recognize and celebrate young men and women on a unique path to "creating enduring value and leaving lasting a lasting footprint".
Mr. Andresen, the Chairman and owner of Ferd, introduced the six honourees at a ceremony at Norway House in Brussels jointly hosted by Ferd, JA Europe and the Ambassador of Norway to Belgium.
All the honourees started their journey thanks to a practical entrepreneurial experience at school. "We want to recognize the positive impact such education is having on young people's careers and ambitions," says Caroline Jenner, CEO of JA Europe, "That is what Ferd's List is all about: not just success stories, but also communicating a strong message about  the importance of investing early in entrepreneurship education."
Honourees were asked to reflect on the definition of entrepreneur in today's world.
"Being an entrepreneur means not having to wait around for someone to hire you. Not only can you create your own job, you can create your own industry!" said Alicia Navarro.
"For me, being an entrepreneur is all about the spirit to change things for the better. When we decided to found 'Talentify' a couple of years ago, it was clear and the only way for us to put impact first and do it as a social business. I deeply believe the time to become a change-maker is now and who, if not we as entrepreneurs, are in the front run of building a sustainable and livable future for the generations to come," added Bernhard Hofer.
"Mentors are an integral part of the journey! They will help you solving quests faster and support you in difficult times. As an entrepreneur, you should count on a wide network of mentors in order to get different opinions. But the decision can only be done by you," complemented Daniel Bartel.
"These young entrepreneurs can inspire European youth to follow their example, creating jobs and value for society. By value we mean far more than just financial return – value is also created through personal development and growth. Just as I have been, the next generation will be inspired by them, and so will our politicians, the business community, the education community and even parents," Johan H. Andresen, concluded.
"We reached 4 million students in 2017-2018, but we know there is still a long way to go. We estimate that not more than 15-20% of students in Europe have access to entrepreneurship education at their school," says Caroline Jenner.
………………………………….
ABOUT FERD
Ferd is a family-owned Norwegian industrial and financial group that is an active and long-term owner of strong companies with international potential and an investor in a broad range of asset classes. In addition to the group's purely commercial activities, Ferd has a strong record of involvement in social entrepreneurship and micro finance.
ABOUT JA EUROPE
JA Europe is the largest non-profit in Europe dedicated to preparing young people for employment and entrepreneurship. JA Europe is a member of JA Worldwide which for 100 years has delivered hands on, experiential learning in entrepreneurship, work readiness and financial literacy. JA creates pathways for employability, job creation and financial success.
Each year, the JA network in Europe reaches more than 3.6 million young people across 40 countries with the support of 150,000 business volunteers and 115,000 teachers/educators.